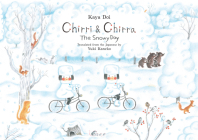 Unavailable at this time.
ISBN: 9781592702039
Availability: Unavailable
Published: Enchanted Lion Books - November 7th, 2017
Enter the enchanted wintery world of Chirri and Chirra as they bicycle through frozen forests, drink punch in giant ice castles, and drift to sleep in igloos underneath shooting stars. Doi's artwork is so cozy you will want to stay in this wonderland forever.
---