Join us for an evening with two local children's authors, as they celebrate their brand-new books!

Born to Draw Comics, illustrated by Craig Orback, is a picture-book biography of Peanuts creator Charles M. Schultz, and It's a Round, Round World! By Ellie Peterson takes young readers on a journey to lean how we discovered that the earth was round.
Born to Draw Comics
A mixed-panel format picture book biography of Charles "Sparky" Schulz, creator of the beloved comic strip Peanuts.

As a child, Charles split his free time between adventures outdoors with his friends and dog Spike, and daydreams and doodles inspired by the comics he loved to read. He longed to become a professional cartoonist, but saw his dreams deferred by unexpected challenges that laid ahead: military deployment to the European front of World War II, and the heartbreak of a family tragedy back home. Even so, Charles never lost sight of the hopeful joy of his early years and his love for Spike, both of which inspired PEANUTS. The comic strip went on to become the most popular and influential in comics history.
For fans of Brad Meltzer's New York Times-bestselling picture book biography of the Muppets and Sesame Street creator, I Am Jim Henson.
It's a Round, Round World!
"In a confident first-person narrative, young scientist Joulia Copernicus debunks the story that Columbus "proved Earth is round." Informing readers that Columbus knew this fact, and so did most people of his time, Joulia also points out that "Ancient Greek, Islamic, and Indian scholars theorized that Earth was round WAY before Columbus's time." Confident Joulia explains how Columbus, shown as a haughty captain in the humorous, cartoon illustrations, and his fellow mariners confirmed Earth was round by discerning "that when ships sail away from you, they seem to disappear from the bottom. When they sail toward you, they appear from the top. On a flat Earth, you'd see the entire ship the entire time." The accompanying illustrations, almost like animation cels, provide the visuals readers need to confirm these assertions. Joulia also turns to astronomy. A lunar eclipse is the highlight of a double-page spread with a large yellow sun, a personified blue and green Earth wearing sunglasses, and the moon moving in iterations through the Earth's shadow. This shows readers that the Earth's shadow is "ROUND!" Joulia has straight, brown hair and pale skin and is almost always the only human in any given illustration. It's great to see a young woman scientist, but it's too bad there's not more diversity around her. Two experiments stimulate further exploration. This lighthearted addition to the STEM shelf encourages children to question, hypothesize, experiment, and observe" -- Kirkus Reviews
Ellie Peterson is a middle school science teacher by day, author and artist by night (and any time when doodling can occur). She's inspired to teach readers to question how they know what they know. Ellie lives in Washington.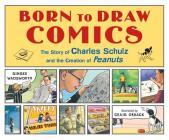 $18.99
ISBN: 9781250173737
Availability: On our shelves now at one or more of our stores
Published: Henry Holt and Co. (BYR) - September 17th, 2019
---

$17.99
ISBN: 9781635921281
Availability: On our shelves now at one or more of our stores
Published: Starberry Books - September 3rd, 2019
---