Submitted by
kitri
on April 28, 2020 - 6:39pm
In this age of quarantine, we all have something in common. Until a few weeks ago, most of us had three separate and distinct "places" in our lives: our homes, our workplaces, and our third places – those places for, well, just about everything else. These third places are where we engage in essential social experiences, where we come together, where we meet friends, practice our hobbies, and express ourselves.
Three different activities, three different identities, built on a lifetime of habit. And for the last few weeks, they have all been reduced to one place: Our homes.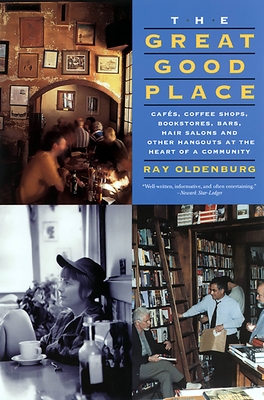 Our name "Third Place Books" doesn't come from the fact that we lost a contest somewhere along the line to First Place and Second Place Books. It's based on an idea put forward by sociologist Ray Oldenburg in his book The Great Good Place: Cafes, Coffee Shops, Community Centers, Beauty Parlors, General Stores, Bars, Hangouts, and How They Get You Through the Day.
After the industrial revolution our lives began to compartmentalize into home and workplace. All of the other community-building functions and informal public activities of life began to coalesce around places like pubs and post offices and churches. These places became important for the community, for democracy, and for the general welfare. People could meet and converse, at least briefly, with one another. They could be a part of something, add something, "contribute in the face of various problems or crises, and to learn to be at ease with everyone in the neighborhood irrespective of how one feels about them." Third places allow people to get out of the house, put the stresses of the mundane world on hold, and bring families and neighborhoods together. These are the places we communicate with each other in ways we aren't able to in the other places.
Third Place Books was created to be that type of place. We don't just sell books, we're a place where you can come to hang out, to interact, to "be". All three of our locations have restaurants, and areas for people to socialize. We hold author events, large and small. We bring books to schools. We give back. We're in our community, for our community.
We know how to be a "third place", but we don't own the idea. The community does. You do.
Along with all your other "third places", our physical bookstore may be closed during this quarantine, but the need for third places does not go away. By necessity, they are transforming. Dinner tables have become offices by day, and game rooms by night. Bedrooms have become classrooms and playgrounds. We've created online virtual hangouts to replace the physical ones we've lost. We've created book clubs and viewing parties. We've created places to be alone, to recharge, to disappear into a good book.
Let's talk about them. How else are you rediscovering and re-creating your third places? We want to know. The community wants to know.
#mythirdplace