Submitted by
mzimmerman
on August 11, 2020 - 6:17pm
Many readers balk when they see the term romance. If you're picturing a steamy, clutch cover of half-naked heroes and heroines, you're picturing an older era of romance readers. Today's romance readers seek out emotional depth, high drama, snapping plots, and lots and lots of happily ever afters (or happily for nows). It's a million-dollar industry made up of stories centering women's experiences; and while there's plenty of male-centered romance out there also, your average reader is hungry for a satisfying read which prioritizes female happiness.
Love stories are classic, timeless tales in any genre. The romantic elements in your favorite books are the same ones you'd find in Romances - that's with a capital "R". The biggest difference is that the happy endings are guaranteed; the biggest similarity is that the characters experience strong doses of either tragedy or comedy along the way.
Our Lake Forest Park staff selected their favorite love stories to celebrate this years' Bookstore Romance Day. This is the second annual celebration of all things in romantic fiction on August 15th, 2020. Visit us in store to shop, order from us online, or call us for a personalized recommendation. Your next favorite love story is just a click away.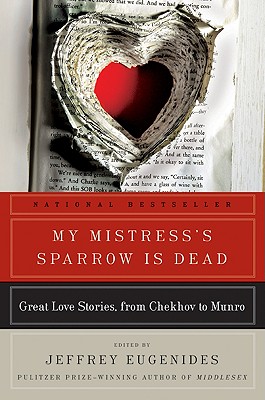 My Mistress's Sparrow is Dead by Jeffrey Eugenides
"My favorite story in this collection is by Alice Munro, "The Bear Came Over the Mountain". It's breathtaking and painted a picture of love that I'd never seen before, in person or in a book, but is one I hope my own marriage emulates over time." - Claudia
On the Road by Jack Kerouac
"Kerouac's classic road novel - about pals Sal and Dean travelling around postwar America - is the ultimate literary Bromance." - Connor
The Age of Innocence by Edith Wharton
"My favorite part about love stories is the yearning and pining, and this is exclusively yearning and pining -- set in a vividly rendered 1870s New York." -Allie
Unbearable Lightness of Being by Milan Kundera
"Love and desire in Russian occupied Czechoslovakia on the eve of the Prague Spring – a true heartbreak of a novel." -Robert
Fever Pitch by Nick Hornby
"A great love of fan and team; a great romance story of soccer." -Kalani
Stardust by Neil Gaiman
"A hero's journey and a story of first love? Magical. And I mean that literally: Tristran's object of affection is a fallen star." -Danielle
Solitude of Prime Numbers by Paulo Giordano
"A story that will haunt me for the rest of my days on earth and, quite possibly, beyond." -Wes
The Time Traveler's Wife by Audrey Niffenegger
"A literally timeless tale of love overcoming humankind's biggest obstacle." -Mark
You Should See Me in a Crown by Leah Johnson
"Because what's more timeless than falling in love at Prom?" -Claire
Pride by Ibi Zoboi
"A remix of Pride and Prejudice set in Brooklyn?? Who can say no?" -Niki
If You Come Softly by Jacqueline Woodson
"A "star-cross'd lovers" tale of first love. Warning: this one will make you weep." -Kitri
Fingersmith by Sarah Waters
"Reading this book feels like a finger slowly running down your spine whilst standing in the eye of a swirling, sapphic cyclone" - Dean
The Prince and the Dressmaker by Jen Wang
"I can't think of anything more timeless than partners helping each other to become their truest selves" -Katelynn
Insomniac City by Bill Hayes
"I fell in love with Oliver Sacks reading this book... it's sooooo good!" -Erin
Frog and Toad by Arnold Lobel
"What's more timeless and romantic than two amphibians loving and supporting each other through all life's domestic ups and downs?" -Allie
Gideon the Ninth by Tasmyn Muir
"A beautiful story of begrudging friendship that develops into deeply devoted love." -Anje