Submitted by
Erin
on February 18, 2018 - 6:21pm
I Am, I Am, I Am by Maggie O'Farrell
A drowning. A birth. A conversation with a killer. These are all moments when O'Farrell's story could have ended.
When I was nine I had my on brush with death. I'd lingered too long chatting with my bus driver, and the man behind the bus got impatient. Just as I went to step off, a blur of red, a rush of air sweeping my hair to the side. The bus driver was furious, but I was perplexed. As O'Farrell's memoir unfurled with lyrical anecdotes of her possible demises, I couldn't help but relive mine as well. Death is never far, but sometimes we slip its grasp for a moment, safe until our next encounter. -Ashley
Check out NPR's interview with the author.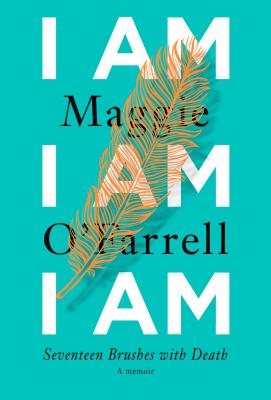 We are never closer to life than when we brush up against the possibility of death.
I Am, I Am, I Am is Maggie O'Farrell's astonishing memoir of the near-death experiences that have punctuated and defined her life. The childhood illness that left her bedridden for a year, which she was not expected to survive. A teenage yearning to escape that nearly ended in disaster. An encounter with a disturbed man on a remote path. And, most terrifying of all, an ongoing, daily struggle to protect her daughter--for whom this book was written--from a condition that leaves her unimaginably vulnerable to life's myriad dangers.
Seventeen discrete encounters with Maggie at different ages, in different locations, reveal a whole life in a series of tense, visceral snapshots. In taut prose that vibrates with electricity and restrained emotion, O'Farrell captures the perils running just beneath the surface, and illuminates the preciousness, beauty, and mysteries of life itself.
Born in Northern Ireland in 1972, Maggie O'Farrell grew up in Wales and Scotland and now lives in London. She has worked as a waitress, chambermaid, bike messenger, teacher, arts administrator, and journalist in Hong Kong and London, and as the deputy literary editor of The Independent on Sunday. Her debut novel, After You'd Gone (2000) won a Betty Trask Award and was followed by My Lover's Lover (2002); The Distance Between Us (2004), winner of a Somerset Maugham Award; The Vanishing Act of Esme Lennox (2006); The Hand That First Held Mine (2010), winner of the Costa Novel Award; Instructions for a Heatwave (2013), and, most recently, This Must Be the Place (2016).