Submitted by
Erin
on November 16, 2017 - 2:06pm
You probably already know all about our staff picks. And chances are, if you've read a staff pick from our Lake Forest Park store, you've read one of Anje's. Anje is perhaps our most prolific, most hilarious staff pick writer. I've seen her convice a person to read a book with just three words. Here is one of her latest suggestions.
Akata Witch by Nnedi Okorafor
Like Harry Potter, if Harry Potter was a teenage girl with albinism who discovers that she has latent magical abilities and ends up not only saving Nigeria, but the entire world! Imagine if instead of picking a wand, you got to pick a juju knife.... -Anje
***
Twelve-year-old Sunny lives in Nigeria, but she was born American. Her features are African, but she's albino. She's a terrific athlete, but can't go out into the sun to play soccer. There seems to be no place where she fits in. And then she discovers something amazing--she is a "free agent" with latent magical power. Soon she's part of a quartet of magic students, studying the visible and invisible, learning to change reality. But will it be enough to help them when they are asked to catch a career criminal who knows magic too? Affectionately dubbed "the Nigerian Harry Potter," Akata Witch weaves together a heart-pounding tale of magic, mystery, and finding one's place in the world.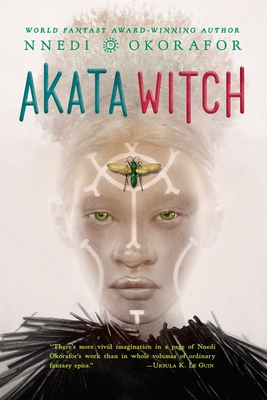 Nnedi Okorafor is the first black woman to win the World Fantasy Award for Best Novel. She has also received Hugo and Nebula Awards. Born in the United States to two Igbo (Nigerian) immigrant parents, and raised in both countries, she holds a Ph.D in English and is a professor at SUNY Buffalo. She divides her time between Buffalo and the suburbs of Chicago, where she lives with her daughter Anyaugo (Anya). Nnedi's work has been published both in Africa and the United States, and ranges from early chapter books to adult short stories and longer fiction.