Submitted by
Nicole R
on April 4, 2021 - 1:37pm
What better way to celebrate April than with poetry books! I am a bit biased as someone who reads poetry not only during National Poetry Month but every other month as well. But I'm here because I love poems and I want more people to love them too.
Studying it in college, reading it during my lunch breaks, and writing it in my spare time, I am very familiar with the eye rolls and shrugs I get from people when I mention poetry. And, believe me, I understand when they say they just don't get it because I don't get all of it either. One of the most common responses I hear is that school ruined it for them because required reading sometimes has a way of doing that.The overanalyzing in high school English class, your teacher and their unforgiving red pen, deters readers and nonreaders alike from picking up some of these amazing writers that are doing incredible things with language. Like Billy Collins writes, "all they want to do / is tie the poem to a chair with rope / and torture a confession out of it." You don't need a rope, a chair, or a confession - I promise.
Not every poet or poem bashes you over the head with rhyme and meter, sticks rigidly to a form, or writes purely in elusive symbols and metaphor. Most poets, through their poems, want to talk to your face instead of over your head. You don't need to understand everything. You can just let a poem be beautiful.
Poetry is beauty and we can read it simply for that. To some, that may sound futile but then so are sunsets and tattoos and your Instagram feed. That's not to discredit the skill and effort poets put into their message or meaning; you'll glean whatever you're going to glean. But we don't need to analyze to like it. And if it brings you joy to go through with a pen marking the imagery significance and the similes, feel free (I personally love a good underlined and dog-eared page) but it isn't a requirement. If you've always turned away from poetry, I encourage you to give it a second chance. You might find some unexpected beauty that you didn't know you needed.
It's been so encouraging to see this national surge of interest in poetry after Amanda Gorman's Inauguration performance (and to have so many pre-orders for her new book!). She was the youngest poet to read at a presidential inauguration but not the first. Six poets have performed at the famous ceremony, two of them included on this list: Maya Angelou for Bill Clinton and Richard Blanco for Barack Obama. Poetry has also found its way into the realm of sports as Gorman was commissioned to write a poem for this year's Super Bowl pregame ceremony. This was huge as it made poetry part of the mainstream, getting a Super Bowl-sized audience, and, like Gorman tweeted, a feat for human connection. This has been a big win for the word nerds out there. And as a word nerd myself, I wanted to shine some light on some of my favorite poets for you to check out this month.
This list includes some household names that are definitely worth that second chance as well as some potentially brand new names to give a first chance to. Most are generally free verse poetry but I also included a section for form. Trust me, the form poems are perhaps the same forms you hated in high school but with fresh and modern twists. So whatever your relationship with poetry is, I hope you find something you like in these recommendations and join us in celebrating the 25th Annual National Poetry Month with some really good poems.
---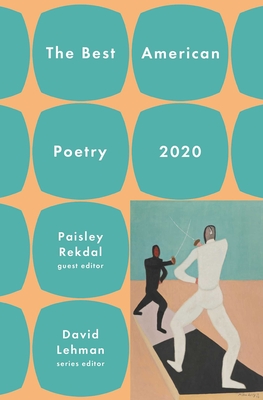 The Best American Poetry 2020
by David Lehman, Paisley Rekdal
Don't like poetry? Maybe you just haven't found the right poet. With an anthology like the Best American Poetry, although subjective with a title like that, you're bound to find something you like. They offer a wide range of poets, forms, and themes so I'm hoping one of the bests from the past year will tickle your fancy. It also includes contributor's notes where the poet goes into depth or gives backstory to the poem featured. My personal favorites: "Good Mother" by Rachel Eliza Griffiths and "Sunday at the Mall" by Tony Hoagland.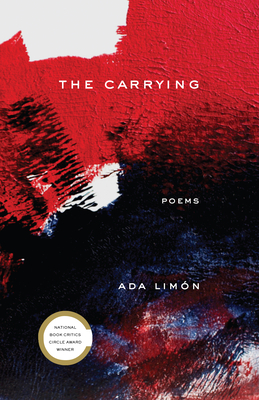 The Carrying: Poems
by Ada Limón
I believe you read Ada Limón when you want a little home, a little soil, and a few good sighs. She makes no promises of bells and whistles and prefers to hold your hand through her stripped-down poetics. These poems are tender, touching on being a family, making a family, and the nature that we create and that we witness. Just like in the poem that bears the book's namesake, you'll feel like you're being carried.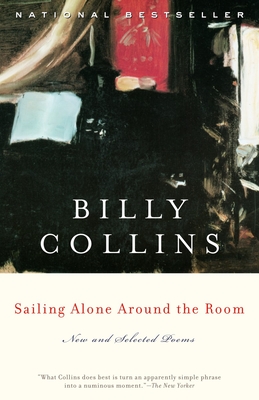 Sailing Alone Around the Room: New and Selected Poems
by Billy Collins
It's been said that Collins puts the fun in profundity and I not only adore that sentiment but wholeheartedly agree. His simple but brilliant work is a great introduction to poetry. He even has a poem called "Introduction to Poetry."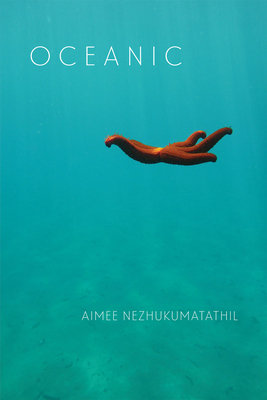 Oceanic
by Aimee Nezhukumatathil
I'll have to thank my coworker and nature section extraordinaire, Katelynn, for this one. You may recognize the name Nezhukumatathil from the New York Times bestseller and Barnes & Noble Book of the Year, World of Wonders: In Praise of Fireflies, Whale Sharks, and Other Astonishments, a book of illustrated nature essays that themselves read like poetry. Her natural descriptions sound effortless, making up words like waterprayer, cicada-electric, and honeyjuice that tickle your brain. The whole book has an attitude likened to hope in times where we are in need of it.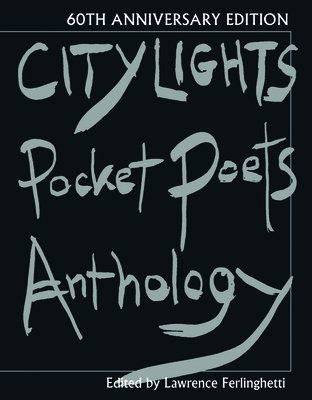 City Lights Pocket Poets Anthology
by Lawrence Ferlinghetti (Editor)
Lawrence Ferlinghetti, co-founder of City Lights Bookstore in San Francisco and one of the most notable writers of the Beat Generation, passed away at 101 in February. I had to honor his legacy in this list and thought to bring some of his friends along too. This anthology is a comprehensive crash course in the Beat poets with must-haves like Allen Ginsberg, Jack Kerouac, Frank O'Hara, and many more.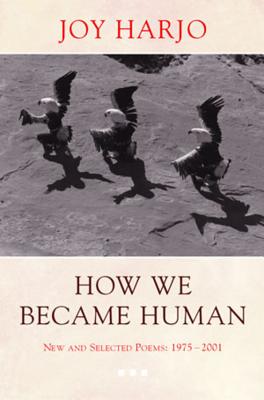 How We Became Human: New and Selected Poems 1975-2002
by Joy Harjo
Witness the evolution of our US Poet Laureate, the first Native American to hold this position and only the second to serve three terms, in this collection of poems from 1988 to 2001. They are rich in spirituality and nature, song and dance, pulling from her experience as part of the Muscogee Nation, living in the American Southwest, and playing music in her band, Arrow Dynamics (!).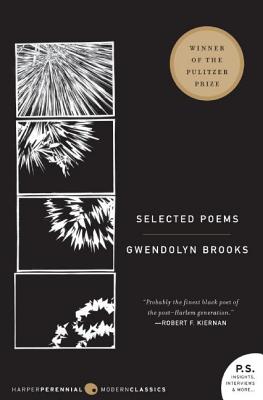 Selected Poems
by Gwendolyn Brooks
Did everyone read "We Real Cool" in high school? It's so short (32 words!), you may have missed it and may not have appreciated it in your teenage years like you didn't appreciate your parents or your metabolism but there's always time for a second chance. Brooks writes about the ordinary everyday with such charm and ease, at times carrying a rhyme and cadence subtly down the page. As selected poems, this gives you her best from her 50+ year career (Terrance Hayes even used her poem as the basis for a new poetic form, the Golden Shovel, using the last words of the poem to make a new one).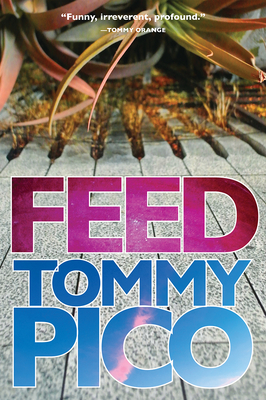 Feed
by Tommy Pico
Back in 2017, I was able to attend a small reading of Pico's at the little college I went to in Oregon and, thus, where I discovered his book-length poems of power and pop culture. And because his best friend, my English professor, was in the crowd, he treated us all like friends or he is just naturally charismatic and cheeky which is very possible. I'm paraphrasing but Pico described himself as a "queer, Indigenous poet whose religion disappeared so he had to fill the void with the Internet." This comes through, gliding and sliding down the page, paying attention to the rhythm and sound of words much like a spoken word poet.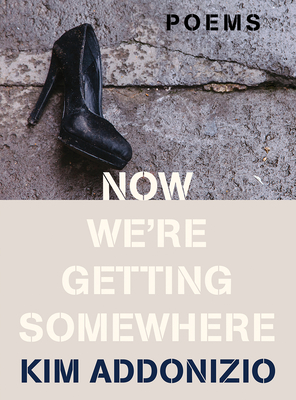 Now We're Getting Somewhere: Poems
by Kim Addonizio
More people should read Kim Addonizio. She was awarded two National Endowment of the Arts fellowships and her 2000 collection, Tell Me, was nominated for a National Book Award. This is her newest collection, just out in March, and Addonizio sets the mood with an Elizabeth Taylor quote at the beginning telling you and herself: "Pour yourself a drink, put on some lipstick, and pull yourself together." (Along with a couple other Washington bookstores, we just hosted a virtual event with Kim Addonizio and Kate Lebo on April 5th!)
---
Form:
---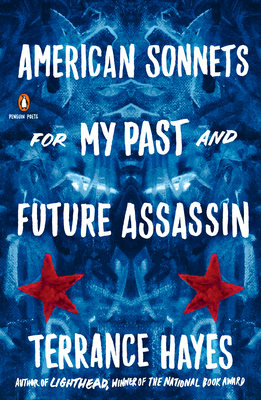 American Sonnets for My Past and Future Assassin
by Terrance Hayes
Hayes turns the sonnet from your Shakespeare class in high school on its head with this collection. All poems bear the same title, the same title as the book, and lingers on love, hurt, and modern-day America. It won't read like you're stuck in a form the way he moves from line to line, poem to poem, with poignant lines I'm sure will resonate. Even the index of first lines at the end reads like a sonnet.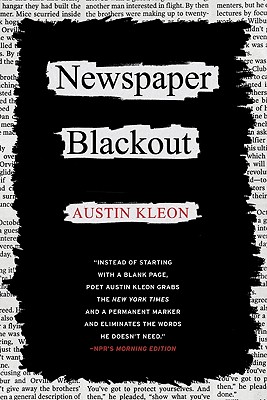 Newspaper Blackout
by Austin Kleon
For the artist or designer perhaps a bit hesitant about poetry, Kleon makes it fun and homemade. Blackout or erasure poetry is the act of taking a page of any writing by someone else and marking out what you don't want, leaving the best words and phrases to create your own poem. This is a great, simple way to explore poetry and maybe to blackout some poetry of your own.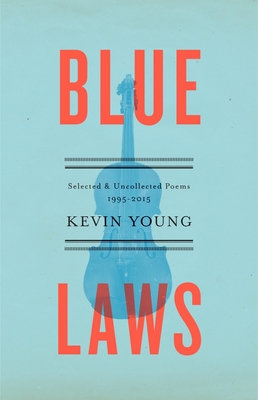 Blue Laws: Selected and Uncollected Poems, 1995-2015
by Kevin Young
One of the oldest forms of poetry, the ode, is Kevin Young's bread and shea butter (see: "Ode to Shea Butter.") I came by him through his ode honoring the midwest with a very simple refrain of I wants that paint vivid images of any familiar hometown, midwestern or not. Not all of his poems are odes, however, but most hold that slim silhouette with that grounding imagery found in that form.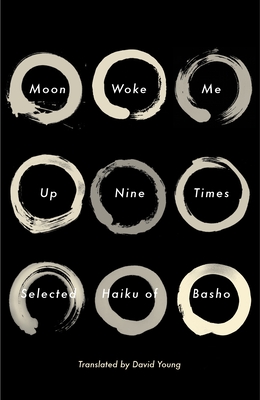 Moon Woke Me Up Nine Times: Selected Haiku of Basho
by Matsuo Basho, David Young (Translated by)
Haiku. You probably wrote these famously pithy poems in elementary school but it's time to revisit them. And by revisit I mean go back to the 17th century where Basho was one of the most famous writers of his time, now being recognized as the master of haiku. Translated into English, the haiku in this collection don't feel centuries old while still keeping the integrity of the traditional form that intends to observe the physical world in a 5, 7, 5 syllable structure.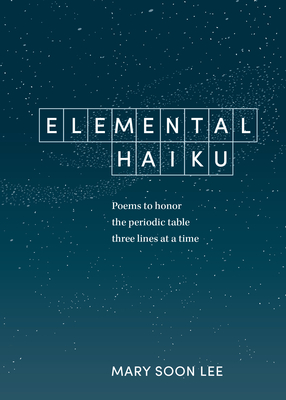 Elemental Haiku: Poems to honor the periodic table, three lines at a time
by Mary Soon Lee
Haiku again. Maybe you're more of a science person, as much as I'm not a science person, and would love to read poems in just one sitting. Well, Mary Soon Lee wrote this book about the periodic elements for you. It's educational without being boring and comes with notes about the element under each haiku if you happened to forget everything you learned in science class like me.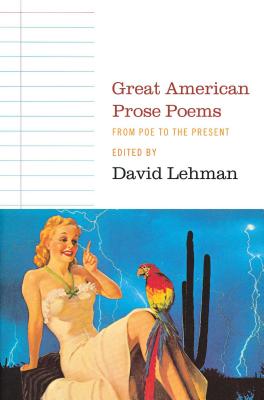 Great American Prose Poems: From Poe to the Present
by David Lehman (Editor)
Prose poems can be a tricky bunch. Are they prose? Are they poems? Are they both? No matter the label, they could be just the gateway from narrative to verse for wary readers. They have more of the story element that prose offers and the brevity and lyricism poetry usually offers. And with an anthology like Lehman's, you are getting the full scope of the prose poem from our first writers to our current writers.
For more book recommendations, make sure to follow us on Instagram, Twitter, and Facebook!