Submitted by
Nicole R
on November 11, 2021 - 7:48pm
In our second installment of this series, we bring you a delightful queer romance to brighten up your day. And to make your book club meeting for this title even more fun, we also have some great ideas for what to drink, eat, read, watch, and listen to inspired by the book!
Bookseller Danielle recommends The Charm Offensive by Alison Cochrun for your next book club pick!
---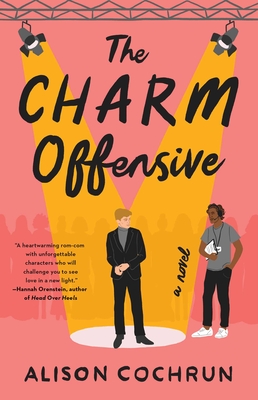 The Charm Offensive: A Novel by Alison Cochrun
Genre: Romance
Price: $17.00
"Look, if you've ever hate-watched (or love-watched, no judgement!) any of The Bachelor franchise, you absolutely must read The Charm Offensive. This journey is so much better than what's on reality tv, with smart, wry banter and complex, relatable characters. Dev and Charlie aren't perfect, but I love them, all of them, as they are on page. This debut from Alison Cochrun is, dare I say it, my favorite read of 2021.

Dev is a producer of Ever After. He buries his mental health and his dreams of writing queer brown love stories to focus on being Fun Dev every season, helping attractive heterosexual couples fall in love. For the first time Dev is responsible for handling Ever After's prince, tech hunk Charles Winshaw. Unfortunately, their prince is a nightmare: he's anxious, strained, and awkward with the women. It turns out Charlie signed up for the show to salvage his career, not to fall in love. One way or another, Ever After and its audience will get a fairy tale love story. It couldn't possibly be faked.... could it?" — Bookseller Danielle
---
Book Club Guide:
There's nothing like some fun themed elements to take a social gathering to the next level. In your conquest to cultivate the perfect book club setting, here are some easy ways to bring a little bit of this book's atmosphere and characters to your next meeting!

What to drink:
What would you be drinking on those tense and competitive group dates? Consider making and sharing your favorite date night cocktails (or mocktails)!
For tips and tricks on making the perfect cocktail/mocktail, check out The Cocktail Workshop or Mocktail Party.
What to eat:
Dev loves a good sugary biscuit! And who can blame him? Encourage your members to bring their favorite comfort snacks to share! Bonus if they're vegan!
For an in-depth dive into cookies and biscuits, take a look at The Encyclopedia of Cookies. Everything a vegan baker could need can be found in The Joy of Vegan Baking.
For a challenge: Recreate the show's world tour with cuisine from each stop! Browse our in-store International Cooking sections for some inspiration!
What to read next:
-One to Watch by Kate Stayman-London
-If the Shoe Fits by Julie Murphy
-Out of Character by Annabeth Albert
What to watch next:
-The Bachelor on ABC
-Love is Blind on Netflix
-The Expanse on Amazon Prime Video
What to listen to:
Check out these Spotify playlists curated by Alison Cochrun!
Make sure to follow us on Instagram, Twitter, and Facebook for more book-related content and visit us in-store at our Lake Forest Park location to pick up print-outs of the book club guide! If you wanna learn more about our very own Third Place Books hosted book clubs, click here.
Created by Sarah B.
Edited by Nicole R.