Friday, February 17, 2017 - 6:30pm
Since 2012, photographer Jane Sobel Klonsky has traveled the United States with one mission: to capture images and stories that focus on the powerful relationship between dogs in the twilight of their lives and the people they share their life with.
Photographer Jane Sobel Klonsky, author of "Unconditional: Older Dogs, Deeper Love," will be at Third Place Books for a discussion and celebration of senior dogs. She will be joined in conversation by Laura Coffey, author of "My Old Dog: Rescued Pets with Remarkable Second Acts."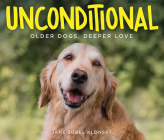 $19.95
ISBN: 9781426217111
Availability: On our shelves now at one or more of our stores
Published: National Geographic Society - October 25th, 2016
---

$24.95
ISBN: 9781608683406
Availability: On our shelves now at one or more of our stores
Published: New World Library - September 29th, 2015
---